Taylor swift releases new album
Aug/12/2020 16:51:09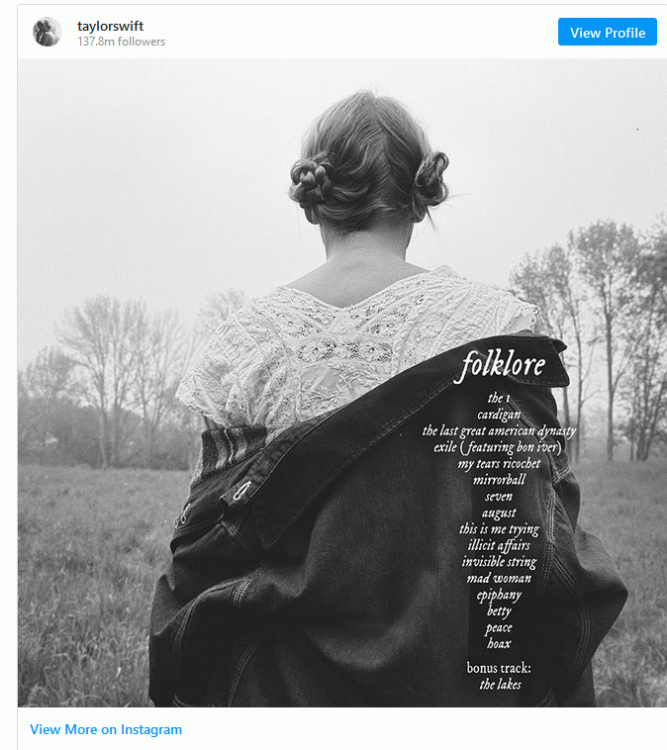 The mega-popular pop singer
Taylor Swift
found something to be grateful this 2020. Although for many musicians this is the worst year and something truly unexpected, Swift decided to drop her new album. Back on July 23, she announced that her new album is going to drop at 9 pm the same day, and her fans went ecstatic.
"Most of the things I had planned for the summer didn't end up happening, but there is something that DID happen. I'll be releasing my entire brand new album of songs I've poured all of my whims, dreams, fears, and musings into. I wrote and recorded this music in isolation but got to collaborate with some musical heroes of mine ..."
Alongside the announcement for the release, she presented a tracklist of 16 songs, that included "Exile," featuring Bon Iver, "The 1," "Cardigan" and "The Last Great American Dynasty."
To shed some light on this decision, she provided a little bit of insight into what made her take this step. As she said, before this year happened, everything would have been well-measured and overthought about what is the best possible date and time for releasing a song or for this matter, an album. But, if these uncertain times have thought anyone anything is that nothing can be taken for granted and nothing is guaranteed. Her inner gut and the experience she has on the scene were telling her that the product of what you do with love should be presented for the rest of the world to see it and enjoy it. As the singer explained, the entire album has been written during the time of isolation and quarantine.
But, the album itself is not all that the fans got. At the same time of the release, a music video for "Cardigan" was promoted. What is so special about it is that is written and directed by swift personally. Doing the video was done in a completely safe environment, as she stated further in her announcement, under the supervision of a medical inspector. Each of the people present was wearing masks and keeping distance. Everything was kept as simple as possible, including swift doing her hair and makeup.
This surprising news shook Swift's fans but in a good way. The entire social media was flooded with positive comments and excitement.
Just as a reminder, Swift's self-titled album has its debut almost 14 years ago. In that time, she has personally and professionally grown and developed into this fabulous artist, releasing a new album every two years. Before "Folklore" her last album named "Lover" dropped in 2019.
This is the entire "Folklore"'s the list:


"The 1"
"Cardigan"
"The Last Great American Dynasty"
"Exile" (featuring Bon Iver)
"My Tears Ricochet"
"Mirrorball"
"Seven"
"August"
"This is Me Trying"
"Illicit Affairs"
"Invisible String"
"Mad Woman"
"Epiphany"
"Betty"
"Peace"
"Hoax"
"The Lakes" (Bonus Track)
The music critics were fast to characterize this album as one in a new direction from what is known and expected from Swift, but positively.
#TaylorSwift
Posted by GossipGirl
See more blogs of GossipGirl