Michelle obama is starting a podcast - the first one is here
Aug/25/2020 06:02:57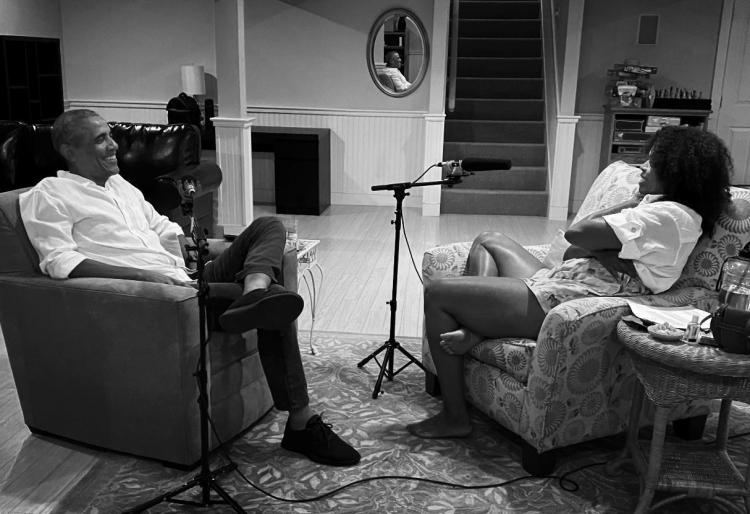 The beloved presidential couple does not seem to stop inspiring the world and its followers with parts of their life and current jobs. From the moment Barack and Michele Obama left the White House, nothing was the same for the US, or so does the majority of the US thinks. Compared to the current situation, many wish that this couple returns to the White House. However, their life outside it has not been boring at all. With many social engagements, voluntary works, foundations, and charities, Obama couple continues the work that they have started in uniting the people and acknowledging that everyone is important.
Since leaving the White House, Michele, in particular, has been in many talk shows and she even published a book. Named "Becoming", it is a story that reflects on her past as a kid, all the way to meeting Barack and starting a life together.
Now, when the world is facing an unseen situation and staying at home is required, Michele decided to start a podcast. Her first episode launched back July 29 on Spotify, where she is joined by her husband Barack – the former president. As a start, Michelle and Barack talk about their life together and how it has been since leaving the White House in 2016 and living now, in quarantine, while keeping a permanent focus on the Americans and staying close to the community.
In her introduction, she talks about the situation accompanied by the Black Lives Matter movement:
"Given everything that's going on right now, from the killings of George Floyd, Breonna Taylor, Ahmaud Arbery, and the ongoing protests and conversations that are testing our patience — and our consciences… not to mention all the challenges we're experiencing due to the pandemic, I think that these days, a lot of people are questioning just where and how they can fit into a community,"
Her choice, on inviting Barack as the first guest of the podcast, was because he has navigated these questions through his work and his life, and I many ways, his entire career can be seen as a never-ending conversation and evolution with his relationship to always larger and larger communities.
Not to forget the COVID-19 situation, the couple also talked about how they are coping with all of that:
"Like most Americans, we've been spending a lot of time together in quarantine. But we've had some interesting conversations… because these are some crazy times."
The following episodes of the podcast are announced to welcome guests such as:
Washington Post columnist Michele Norris on the topic of "self in the time of COVID";
Dr. Sharon Malone, wife of former U.S. Attorney General Eric Holder, on discussing women's health;
Craig Robinson, Michelle's older brother, talking about sibling relationships;
Conan O'Brien on the topic of marriage and many more.
The official name of the podcast, for all those willing to hear what she has to say, is "The Michelle Obama Podcast" and it can be found on Spotify.
Posted by GossipGirl
See more blogs of GossipGirl